We believe that One Portal Way could create a new heart for North Acton to meet the needs of existing and future communities. It has the potential to knit together other local developments to create a vibrant hub with something for everyone.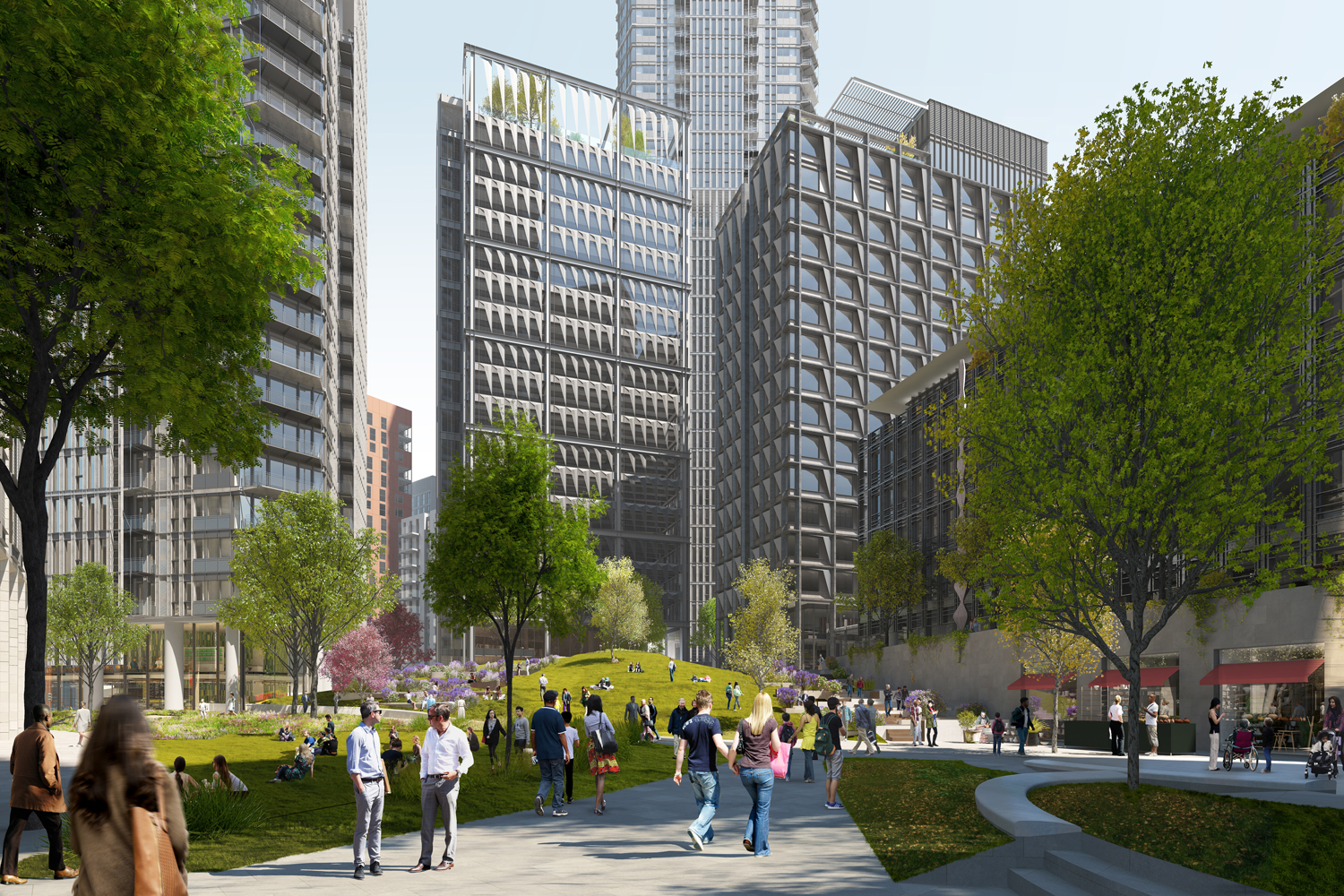 A new Green heart for North Acton (Illustration)
A GREEN HEART FOR NORTH ACTON
● The site at present is inaccessible to the public, surrounded by busy roads, and provides a poor experience for passers-by. We want to change this, by creating new public areas and green open space.
● With the arrival of the Elizabeth Line and improvements to North Acton station, the area needs a central public space to bring the community together. A 'green heart' at One Portal Way will provide this.
● We are proposing a new landscaped square at the centre of our site. This green heart will be a garden with large trees, flowerbeds and lawns, and cater to a range of needs and activities.
● The green heart will also serve as a civic area, providing a space for the community to come together, as well as establishing clear routes to local transport hubs for visitors to the area.
● Feedback from our first phase of consultation showed that over 85% of people who answered our digital survey supported the creation and provision of this central space.
Bringing new jobs, workspace and innovation
● The scheme will help support West London's booming tech and innovation cluster, taking advantage of the Elizabeth Line to provide a mix of co-working, maker, and flexible workspace.
● The proposed workspaces will be delivered across a number of buildings on site and could support between 1,200 and 2,000 new jobs locally.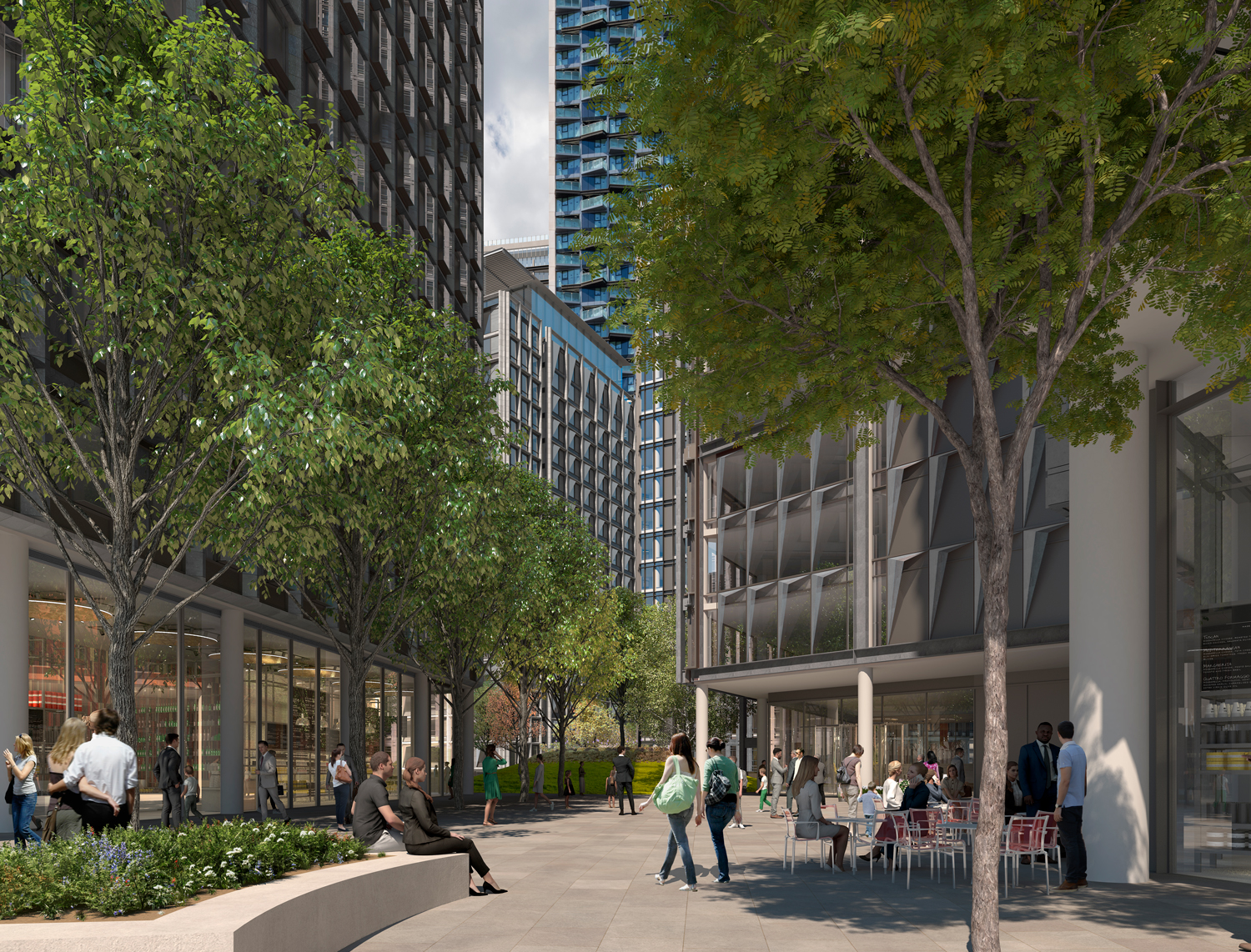 Illustrative view from Eastern portal entrance from Wales Farm Road
● Last year, Imperial College was named the UK's most innovative university by Reuters because of its exceptional entrepreneurial culture and ties to industry.
● As a committed long-term local stakeholder, Imperial College London will look to leverage its local business network to attract and nurture creative and booming businesses locally.
● As such, a great emphasis is placed on providing affordable flexible employment space for start-ups and SMEs, alongside the provision of an Imperial-backed co-working space, responding to the fast evolving working environment. This will be brought forward in phase one of the scheme, utilising Imperial's experience of delivering and operating similar spaces in West London.
● While Currys (former Dixons Carphone) have announced their decision to relocate to smaller offices elsewhere, we are committed to working with Currys to secure a meanwhile occupier to provide jobs and growth for the area and the Borough.
● Feedback from our first phase of public consultation revealed that local people would like a greater mix of shops, markets and restaurants to choose from.
● We are therefore aiming to provide a wide range of uses and facilities at One Portal Way. This could include new shops and a supermarket, food market, pop-up exhibitions, community events, cafes, restaurants, a doctors' clinic, leisure, and childrens' play space.
New homes for North Acton
● Our proposal will provide a total of between 1,300 to 1,350 new homes, much needed in the Borough and London in general.
● We will aim to deliver 35% of the homes as affordable, delivering a mix of London Living Rent, London Affordable Rent, Discounted Market Rent and Intermediate housing.
● In the first phase, the homes will be Build to Rent (BTR), meaning they will be for rental only, not for sale. This will help meet the demand for high-quality rental homes across London, including at affordable rents. Later phases will combine homes for-sale and for-rent.
● In addition, the proposal includes around 380 generous co-living studios, providing a different tenure option for residents who want to live more communally.
● We are proposing seven new buildings on the site, which vary in height. The three tallest buildings on each corner of the site will be 55, 50 and 50 storeys. No taller than the neighbouring buildings in North Acton – approved and under construction – the tallest of which is 57 storeys.
● Our proposals for the buildings on site will help us deliver the new homes that Ealing needs, and are in keeping with the development context of North Acton.
● Our massing approach has been closely considered in order to minimise the visual impact on the surrounding area, and the three tall buildings are placed at the corners of the site, where their impact on neighbouring homes will be the smallest.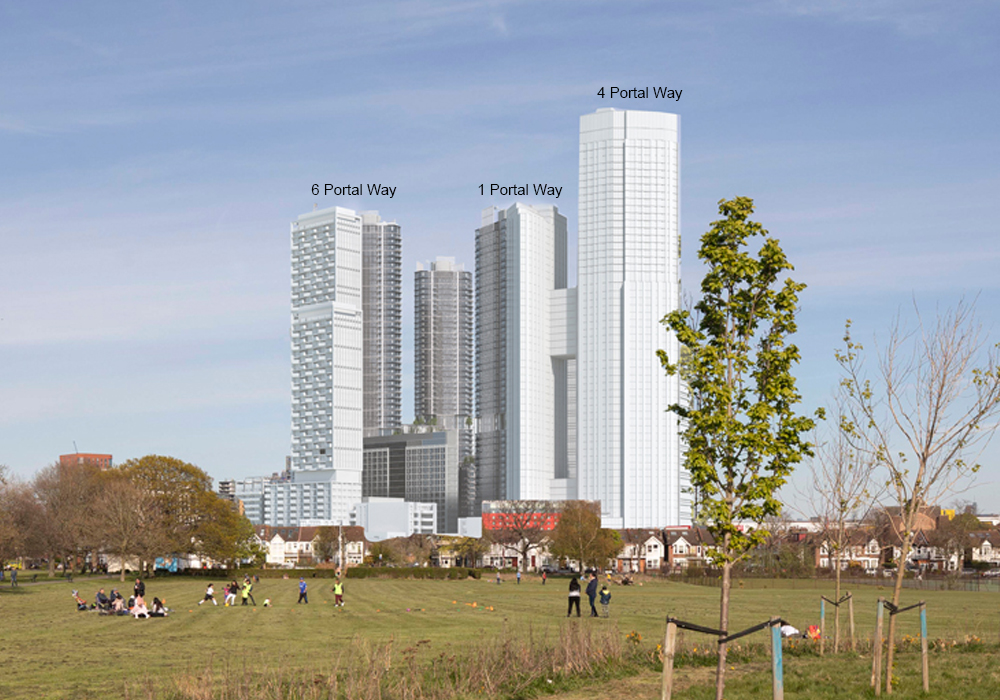 Illustrative view from North Acton playing fields, with One Portal Way outlined in red behind 4 and 6 Portal Way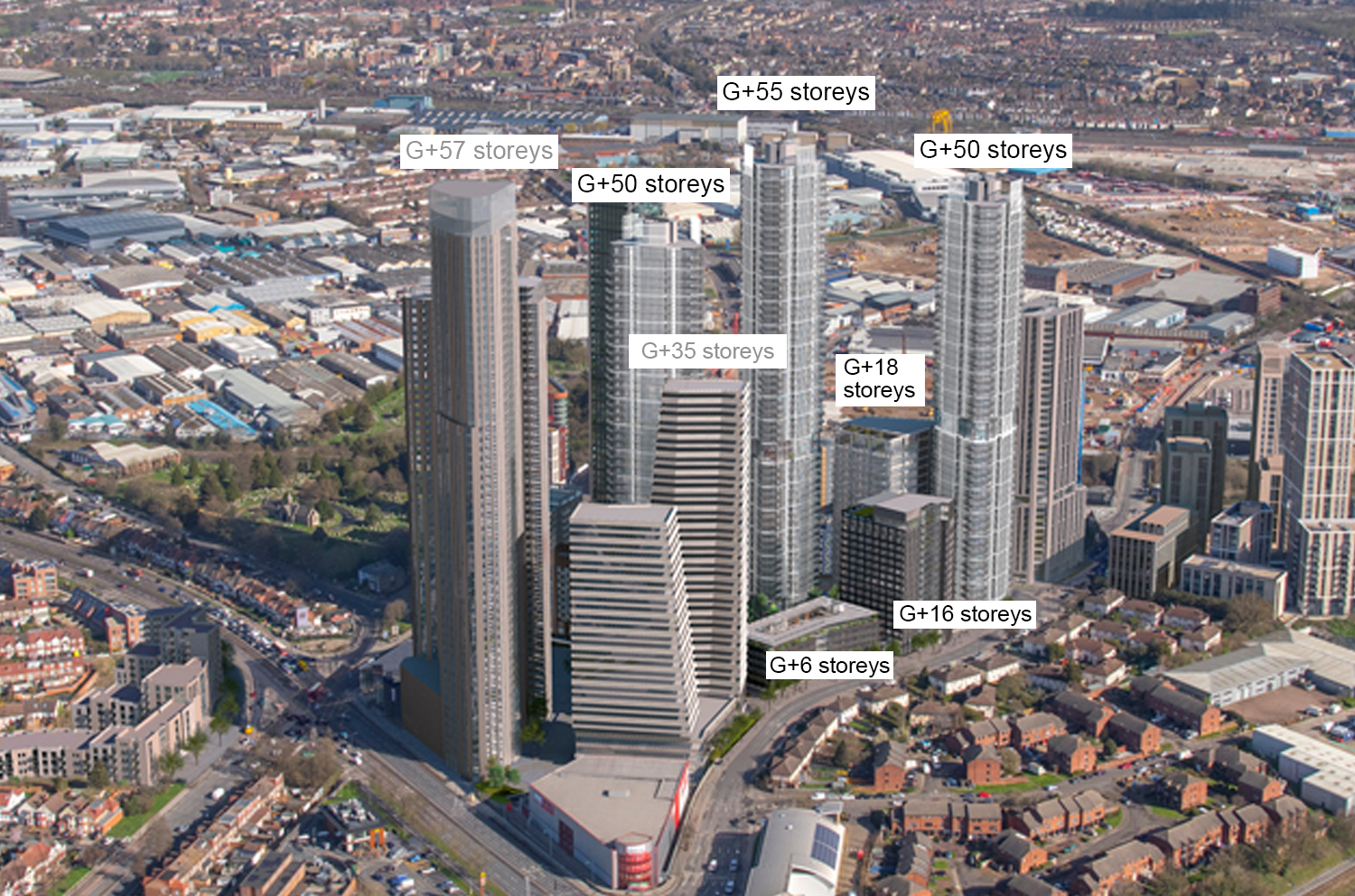 The heights of the proposed buildings in the context of other schemes in North Acton that are under construction or have been granted planning consent
● As part of our planning application, we will be submitting a full evaluation of local transport and infrastructure.
● The site is located very close to the Crossrail station at Acton Main Line Station and HS2 station at Old Oak and therefore benefits from good public transport links, with a PTAL rating of 4/5.
● Ealing Council is keen on promoting car-free developments in locations such as this and this is a trend we are seeing more of throughout London as well. Our plans will prioritise cycling and walking, including – where possible – improvements to the roads around the site to make crossing safer.
● The proposed plans will include 115 car parking spaces for disabled residents, retail, operations and car club. This number is significantly smaller than the existing number of spaces on the site and the number of spaces in the existing planning consent.
● The proposal includes a raised table on the junction of the A4000 and Portal Way, thus making drivers more aware of pedestrian crossing and reducing traffic speed.
● On Portal Way itself, we propose to create a shared surface, working in collaboration with all the adjacent landowners. This would transform Portal Way from a car dominated service road, to a pedestrian-first street.
● The site proposes a dedicated off-street service area which will accommodate 5 loading bays for the entire development. The vehicle access will be at the southern end of the site onto Portal Way.
● An important part of creating a new green heart for North Acton is ensuring that One Portal Way has high ambitions for sustainability.
● We will achieve a BREEAM Excellent rating for all non-residential buildings.
● The latest technologies and measures will be used to reduce carbon emissions and save energy, including solar panels, an electricity-only energy supply, air-source heat pumps, and water-saving features.
● Sustainability is also informing our strategy for material selection, and our proposals will:
o Use recycled materials and ensure they are, in turn, recyclable
o Use local materials to reduce transportation needs
o Select durable and resilient materials
● We are looking to submit a hybrid planning application for the site, which would grant outline consent for the masterplan at One Portal Way and detailed permission for Phase 1 of the proposed development (see image on the right).  
● We are keen to build a community and provide a new heart for North Acton at One Portal Way, which is why we are looking to deliver a large part of our community benefits in the first phase of development. This will include:
o 95% of the central green space
o Around 900m2 of the affordable flexible employment space for start-ups and SMEs, alongside the provision of an Imperial-backed co-working space
o 459 new homes, 35% of which will be at Discounted Market Rent
o 380 co-living units
● As the scheme will be delivered over a long period of time, we have the opportunity to create some uses and activities on a temporary basis while parts of the site await development. If you have any ideas about what you would like to see on site as meanwhile uses, please do contact us and share your thoughts with us.